2nd Asia Conference on Business and Economic Studies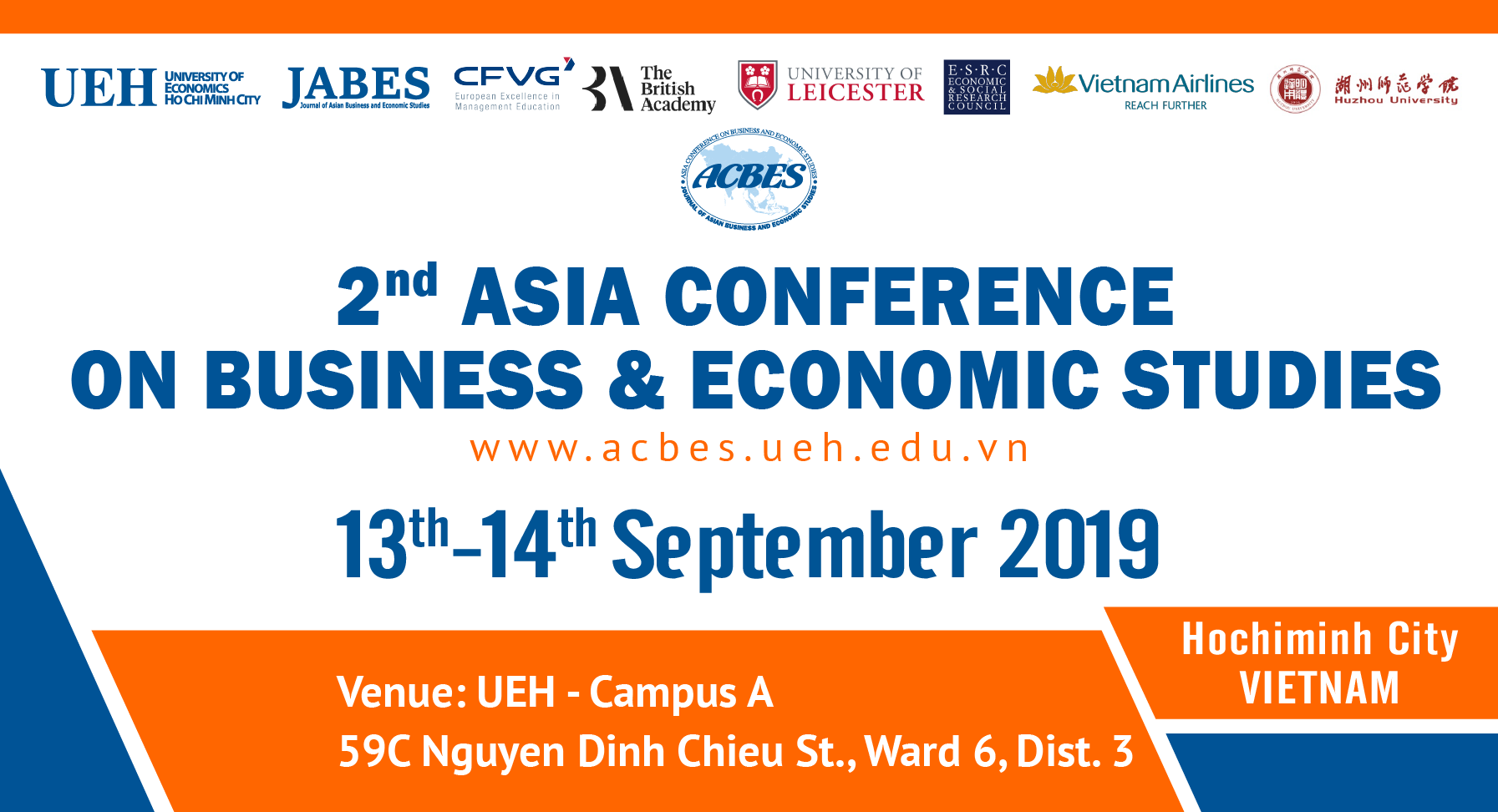 13th – 14th September 2019
University of Economics Ho Chi Minh City
59C Nguyen Dinh Chieu, Ward 6, District 3, Ho Chi Minh City, Vietnam
Business and Economics are one of the most rapidly growing fields in research in Asia and in many other parts of the world. With the aim of providing opportunities for researchers to publicize and discuss their findings besides a number of policy implications for business and economic development. University of Economics Ho Chi Minh City and Journal of Asian Business and Economic Studies, Vietnam, would like to invite all academics and practitioners to participate in the 2nd Asia Conference on Business and Economic Studies on 13th – 14th September 2019.
The 2nd Asia Conference on Business and Economic Studies (ACBES 2019) will be organized by Journal of Asian Business and Economic Studies in collaboration with University of Leicester (UK) and sponsor by University of Economics Ho Chi Minh City and the British Academy on 13th – 14th Sep 2019 at Ho Chi Minh City, Vietnam basing on the success of the 1st Asia Conference on Business and Economics Studies (ACBES 2018) with over 150 international participants on 8th – 9th Sep 2018.
At the Conference, active and lively discussions are expected among paper presenters and other participants. There will also be intriguing keynote speeches by renowned scholars as well as workshops for empirical/econometric methodologies and for psychological/experimental methodologies.
The Journal of Asian Business and Economic Studies, the official journal of University of Economics Ho Chi Minh City, published by Emerald, welcomes any submissions from conference papers for Regular Issue after the conference.
---
Topics
We welcome submissions on topics in any areas of Business and Economics, although we encourage submissions dealing with questions that originate from Asia or are relevant to Asia today. Submissions on traditional areas of Business and Economics as well as on new topics are welcome, and we will consider both theoretical and empirical research. We will consider any topics in or related to Business and Economics, including but not limited to the following:
Investment, Trade, and Globalization
International Finance
Fiscal Policies and Public Finance
Agriculture, Poverty, Inequality, and Environmental Economics
Employment, Income, and Human Resources Development
Innovation, Creativity, and Entrepreneurship
Accounting and Auditing
Development of Economic Sectors and/or Industries
Business Administration
Business Development
Regional Policies
Health Economics
Banking
Finance
Economics and Law
Financial Economics
Financial Economics of Fintech
Monetary Economics
Institutional Economics
Health Economics
Insurance and Workplace
We also welcome topics related to other field of Economics and Business.
---
Keynote speakers
 Dr. Christopher Waller
 Executive Vice President and Director of Research
at the Federal Reserve Bank of St. Louis (Fed St. Louis), US.
---
UEH Research Award
US$200 will be awarded for the best paper at Gala Dinner.
---
Important dates
June 31, 2019: Submission deadline for papers
July 10, 2019: Notification of acceptance
July 31, 2019: The registration deadline for accepted authors
August 20, 2019: The payment deadline
---
Guideline for Contributors
All submissions are made through the submitting system of JABES, please choose the Article Type as: ACBES 2019 when generating your submissions
An abstract without a draft paper may be considered (although priority will be given to submissions with a draft paper).
Include on the first page of your submission the following information: paper title, authors' names and affiliations, and contact information including e-mail address for the corresponding author. You must add all co-authors and make sure the order of all co-authors when generating your submissions.
Submitted abstracts and/or draft papers will be posted on the Conference website and will be circulated on site.
Submissions should be sent in MS Word format.
For more detail, please see at: Guide for Authors
---
Fee
The registration fee includes one luncheon, three tea and coffee breaks, a gala dinner, a welcome reception gathering, attending all sessions and keynote speeches, handbook with detail program and all abstracts of accepted papers with ISSN number, a certificate of presentation, name badge and a conference bag. To organize such a scale of international conference, the registration fee is used to cover all conference operation costs while maintaining quality service to all participants.
For each paper/abstract, at least one author must pay the registration fee. To encourage student authors for their early academic career path, regular and student registration fee are listed in the following table:
 

Regular
Before 20 August 2019

Regular Author Registration Fee

US$ 150

Student Author Registration Fee

US$ 100

Non-Author Registration Fee

US$ 100
If you are Vietnamese, you can pay by VND as:
 

Regular
Before 20 August 2019

Regular Author Registration Fee

VND 3 million

Student Author Registration Fee

VND 2 million

Non-Author Registration Fee

VND 2 million

Conference Organizers
---

Organizing Council
Chairman of the Conference
Su Dinh Thanh
Journal of Asian Business and Economic Studies, Vietnam
Committee
Nguyen Dong Phong
University of Economics Ho Chi Minh City, Vietnam
Nguyen Trong Hoai
University of Economics Ho Chi Minh City, Vietnam
Nguyen Dinh Tho
University of Economics Ho Chi Minh City, Vietnam
Tran Mai Dong
University of Economics Ho Chi Minh City, Vietnam
Christophe Schinckus
School of Business and Management, RMIT Vietnam
Steven D Brown
The Open University, UK
Marta Gasparin
University of Leicester, UK
Dhaval M. Dave
Bentley University and NBER, US
Liem T. Nguyen
Westfield State University, US
Nguyen Phuc Canh
Journal of Asian Business and Economic Studies, Vietnam
Advisory Committee
Jonathan Batten
Monash University, Australia
Nick Nguyen
School of Economics and Finance, Massey University, New Zealand
Liem Viet Ngo
UNSW Business School, University of New South Wales, Australia
Jeff Wongchoti
School of Economic and Finance, Massey University, Australia
Neil Hart
University of New South Wales, Australia
Vu Viet Quang
University of Economics Ho Chi Minh City, Vietnam
Nguyen Vu Hong Thai
School of Business and Management, RMIT Vietnam
---
Contact Information
Inquiries regarding the Conference should be sent to the following e-mail address: acbes@ueh.edu.vn
Further information on the Conference will be posted on the website: http://www.acbes.ueh.edu.vn/