CELG SEMINAR: Cognitive and Economic Development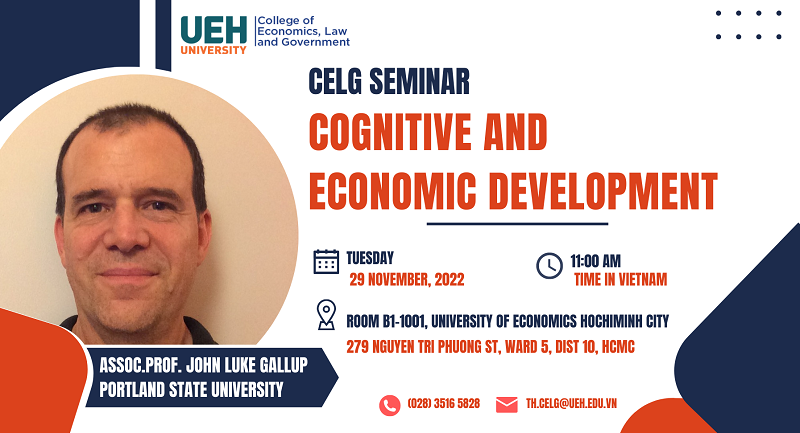 The College of Economics, Law and Government would like to respectfully invite lecturers/ researchers to come and share your experiences at the CELG seminar:
Topic: Cognitive and Economic Development
Presenter: Assoc.Prof. John Luke Gallup, Portland State University
Time: 11:00 AM (Vietnam), Tuesday, November 29, 2022
Location: Room B1-1001, 279 Nguyen Tri Phuong St, Ward 5, Dist 10, HCMC
Language: Vietnamese and English
To receive CELG seminar information, please fill out this form: https://go.ueh.edu.vn/CELG seminar information.
To present and submit a report, please fill out this form: https://go.ueh.edu.vn/CELGseminarpresenter.
A burgeoning literature has established that early childhood health conditions have large effects on the cognitive development, education and earnings of individuals. This paper assesses the impact of early childhood health on national economic development.
Cognitive ability is the foundation of human capital, affecting both education and economic growth. Each risk factor for cognitive development also causes child mortality, making child survival a viable proxy for good cognitive development conditions. When life expectancy is decomposed into child and adult survival, almost all of its large correlation with economic growth is due to child, not adult, survival. The cognitive development of current workers happened decades earlier when they were children, providing a credibly non-endogenous correlation. Child survival from a generation ago is one of the strongest correlates of economic growth in both low and high-income countries. This evidence suggests that early cognitive development plays a major role in economic development, in addition to being a determinant of life-long well-being.
About presenter:
Assoc. Prof. John Luke Gallup does research on the Vietnamese Economy, Economic Growth, Automation, Health, and Economic Geography. He received his PhD in Economics and MA in Demography from U.C. Berkeley (US) and his BA in Economics and Politics from Swarthmore College (US). He previously taught at Harvard University, as a Fulbright Scholar at the University of Commerce (Vietnam), and as a visiting scholar at the Toulouse School of Economics (France).  Assoc. Prof. Gallup's recent research assesses the impact of early child development on economic growth, the theory of added-value plots, the economic impact of tropical disease, and the effect of economic development on income distribution. He has consulted for the World Bank, UNDP, EU, ADB, ILO, USAID, multiple Vietnamese Ministries, and the Government of Bolivia. He has won awards for teaching graduate and undergraduate Development Economics and Econometrics courses. Assoc. Prof. Gallup has 9,041 citations in Google Scholar and has served as a referee for 33 academic journals. He has conducted economic research in Vietnam since 1993.