JABES SEMINAR TALKS 2021 (JST 2021) | July Talks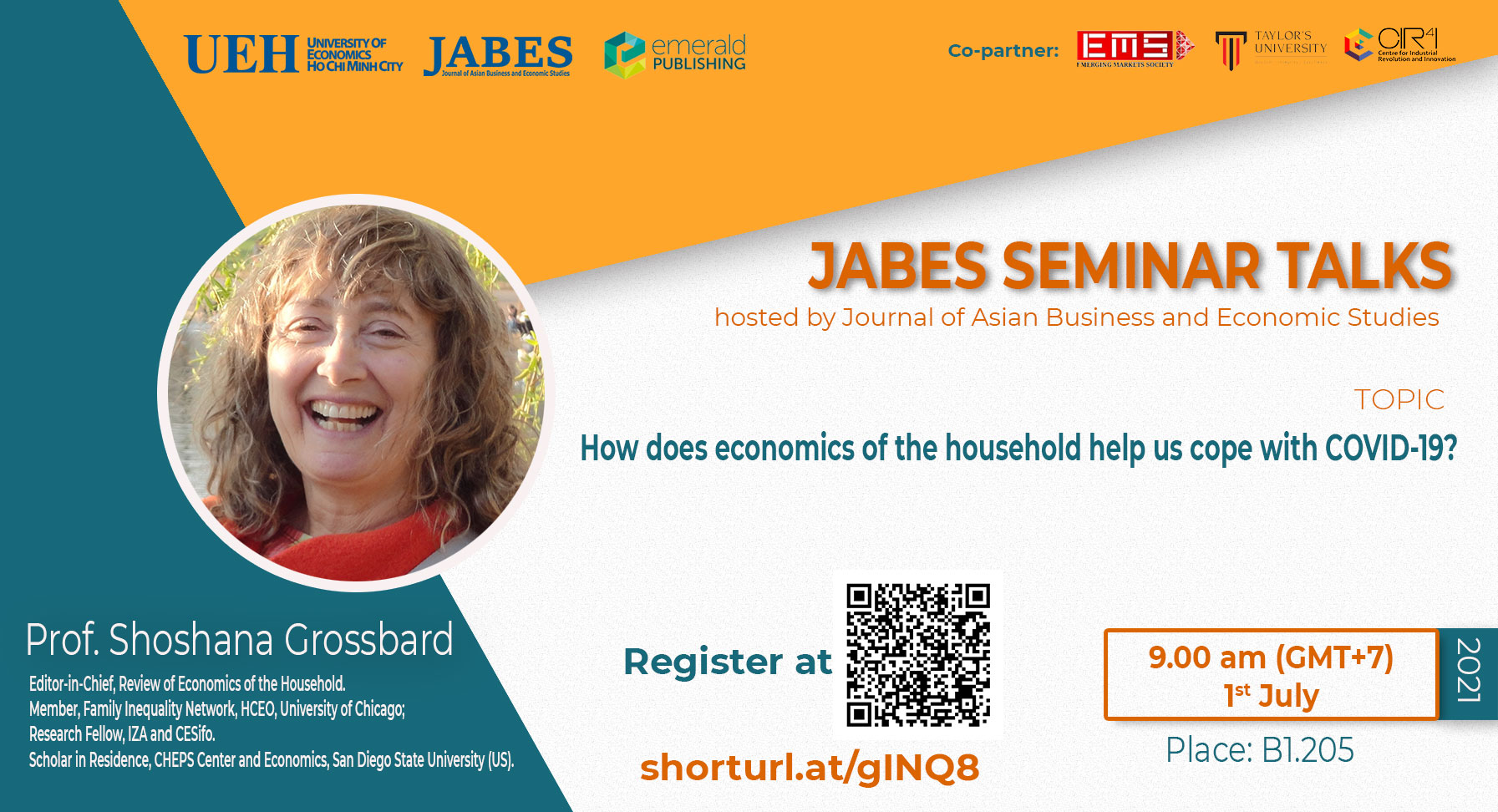 JABES SEMINAR TALKS 2021 (JST 2021) | July Talks
Hosted by Journal of Asian Business and Economic Studies (JABES)
Keynote speaker: Prof. Shoshana Grossbard
Editor-in-Chief, Review of Economics of the Household.
Member, Family Inequality Network, HCEO, University of Chicago; Research Fellow, IZA and CESifo.
Scholar in Residence, CHEPS Center and Economics, San Diego State University.
Topic:
How does economics of the household help us cope with COVID-19?
For futher information:
Shoshana Grossbard is a pioneer researcher on households and families. She is the premier economist currently engaged in research on the economics of marriage and the economics of the household. She is also a leading figure in family economics and widely known for her work on the economics of the family.
Shoshana Grossbard has been trained as an economist at the University of Chicago, most of her articles appeared in economics journals, but she also published in sociology, demography and anthropology journals, and interdisciplinary books. Currently a member of the Family Inequality Network, University of Chicago, scholar in residence and Professor of Economics emerita at San Diego State University, and a research fellow at IZA , CESifo and GLO, she has been a fellow at Stanford's Center for Advanced Study in the Behavioral Sciences.
Time: 9:00 AM (GMT+7) - Thursday, July 1, 2021
Place: University of Economics Ho Chi Minh City (UEH) - Campus B - Room B1.205 – 279 Nguyen Tri Phuong St., Ward 5, District 10, Ho Chi Minh City.
Note: Within 3 days of JST 2021 | July Talks, JST Organizing Committee will send an email to the participants:
For those who join the virtual seminar: Official link via Zoom.
For those who want to take participate in the seminar: Our detailed program.
For registration and more detailed information, you can use the link below: JST 2021 | July Talks Registration
All new information relating to JABES SEMINAR TALKS will be updated in real-time on: