Joint Post-graduate exchange symposium – UEH-CELG and University of Regensburg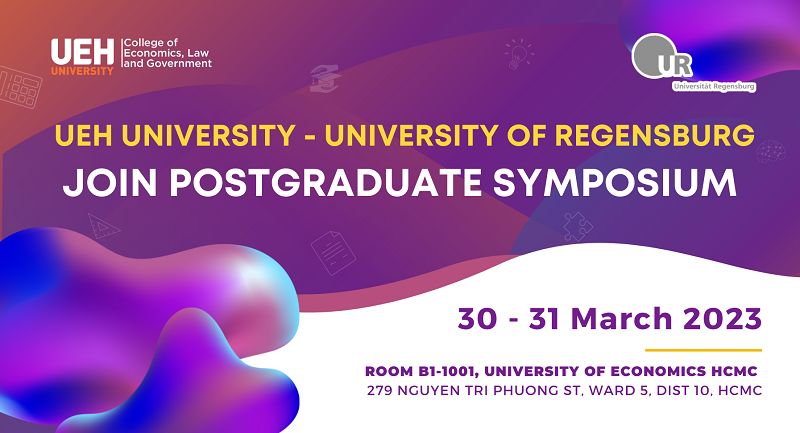 Assoc. Prof. Pham Khanh Nam and College of Economics, Law and Government (UEH-CELG) postgraduates are going to welcome the delegation from University of Regensburg to visit and exchange academic issues with UEH-CELGers. In this workshop, Prof. Gabriel S.Lee and 12 postgraduates from the University of Regensburg participate in the "2023 First Joint UEH-UR Post–Graduate Symposium" on 30th-31st March, 2023 at UEH, Campus B.
The objective for the "2023 First Joint UEH-UR Post–Graduate Symposium" is twofold: First, to introduce the latest Ph.D. and Master research ideas and topics to participants; Second, to exchange academic skills and ideas of both UEH and UR postgraduates. The workshop, and hence, not only enforces the academic ideas from two different universities but also bridges the educational and cultural gaps for the potential future official academic and cultural exchanges between the two universities. The following program is a preliminary version of a 2-day workshop that includes presentations and cultural excursions.
The College of Economics, Law and Government would like to respectfully invite lecturers/ researchers to come and share your experiences at the Symposium
·   On 30th-31st March, 2023
·   At Room B1-1001, UEH- B1 Campus 279 Nguyen Tri Phuong St, Ward 5, Dist 10, HCMC
To register for the symposium:
Please fill out this form: https://go.ueh.edu.vn/JointPostgraduateSymposium2023 or contact CELG Administration Office via email: th.celg@ueh.edu.vn. 
Symposium topics:
·        Monetary and fiscal policy
·        Institutional quality
·        Resilience of retail visibility networks
·        International trade relations
·        Female employment
·        Environment and social preference
·        Firm location choice
·        Stock market
·        Right to privacy in Vietnamese law
·        Superstar cities and over-proportional price increases
SYMPOSIUM TIMELINES
Day 1 March 30, 2023: Introduction and presentations University of Regensburg
10:00 – 11:30: Opening Remarks and Introduction to UEH and UR
13:00 – 15:00: Research Presentation Session 1
15:10 – 17:10: Research Presentation Session 2
Day 2 March 31, 2023: Presentations, Feedback and Workshop Dinner
9:00 – 10:40: Research Presentation Session 3
11:10 - 13:10: Research Presentation Session 4
14:30 – 16:00: Research Presentation Session 5 (only UR students)