ICBF 2022: International Conference On Business And Finance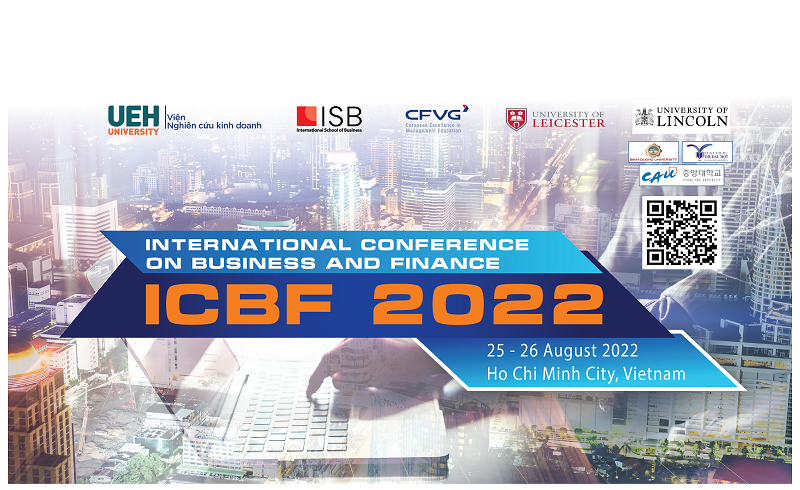 The annual conference "International Conference on Business and Finance" (ICBF 2022) will be held from 25 to 26 August 2022 at the University of Economics Ho Chi Minh City (UEH), Vietnam as a hybrid event (virtual and face-to-face presentations).
The global economy fluctuates yearly, especially in 2022, since the impact of Covid-19 has been minimized. Thus, this is an occasion for experts, researchers, scholars, and lecturers from Vietnam and around the world to participate in and share ideas on their concerned topic in 2022.
The organizing and scientific committee welcomes submissions from scholars and practitioners from Vietnam and worldwide for presentation at the conference. We wish to provide an opportunity for everyone to present their research, meet and discuss with other researchers on the same matter, and several publication opportunities in high-ranking journals.
TOPICS
The conference theme of ICBF 2022 includes but is not limited to:
Business Administration
Finance
Management
Banking
Behavioral Finance
Accounting
Business and International Business
Emerging Markets Finance
 Financial Market
 International Trade
 Marketing
 Leadership
 Public Governance
Economics & Law, Business & Law
Tourism
IMPORTANT DATES
15 August 2022: Submission Deadline
15 August 2022: Conference Registration and Payment Deadline
25-26 August 2022: Conference Date
GUIDELINES
Access this link ICBF 2022 - Guidelines to get information of:
Submission Guidelines
Format Guidelines
Registration for participation guidelines
PUBLICATION OPPORTUNITIES
Journal of Economic Development (Chung-Ang University) – Scopus;
Asian Journal of Law and Economics (De Gruyter Publisher) – ISI-ESCI;
International Journal of Economics and Management (University Putra Malaysia) –Scopus;
Book series "Vietnam and the Global Economy" (World Scientific Singapore);
And many more to be announced.
For further information, please contact us via: ICBF 2022